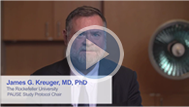 The PAUSE study is no longer recruiting participants. For information about other clinical trials from the Immune Tolerance Network, visit immunetolerance.org.
Am I Eligible?
If you are between the ages of 18-65 and have been diagnosed with psoriasis for 6 months or longer, you may be eligible to participate.
Study Locations
There are a number of U.S. Clinical Research Study Sites where participants will be enrolled in the PAUSE study.